The last week and two birthdays
It has been a bit of a mixed week.
Starting where I left off last week, Tuesday was a bad day. I started to get a splitting headache shortly after I finished that last post and I couldn't work it out at the time, though I do recognise now that it was low blood sugar. Anyway, a bad mood occurred and there was a lot of grumpiness with the world and my beloved phone which just decided to wip a lot of data, mostly texts and emails clean from the device and I just couldn't for the life of me work out how to restore it. I still have not for that matter.
Gav came home, and we went directly to the Dara O Briain gig. It was excellent, I really, really enjoyed the entire show and we went straight on home afterword, my headache and mood not what it should.
I had quite possibly my worst dinner ever, my entire life ever. A king pot noodle and a packet of walkers odd flavour crisps – which are horrible, do not under any circumstances buy or eat the American Cheese Burger crisps, they do taste like one. But not a nice one.
If I think I've had a bad week last week with exercise, this week is a million times worse, I've not even walked into work, let alone ran, cycled, or swam. Partly due to this being my last few weeks of university (probably ever! - eek!) and partly because this weekend was Gavin's birthday and then my sister's birthday.
I have tried, in the first half of the week to structure my eating around the fact that the end of the week would be bold, and there was no exercise being done to help. My daily points allow me up to 23 points a day at the minute. I do try not to go over 20 normally but wanted to save points for friday, saturday and Sunday nights.
I had 14.5 and 18 on Wednesday and Thursday so could bank my four points for each of those days.
I was pleased enough with Friday, I had only 19.5 points considering that was the night that we went out for Gav's birthday, just to the cinema then a drink in Nandos, but still. Quite pleased, it could have been less, I was greedy with noodles for dinner, but at the cinema I had a huge diet coke (0 points) and at Nando's I had the frozen yogurt (which I'm told from the website's nutritional information is only 1 point per serving, see picture below). So overall, Friday. grand!
Saturday is normally my bad day, probably due to being stuck for nine hours in the sweetshop I work in, but that Saturday was brilliant for me. In work I managed to only have 4 points the entire day, I ate a lot of salad and veg when I was bored and for dinner I had one of the weight-watchers microwavable ones - only three points.
Got ready for the sister's birthday! Gav had footie things to go to so was heading with wee brother. Here we have outfit of the night, wasn't sure what way to dress, didn't want a dress because it would be too cold and I wasn't sure what was getting too dressed up, so shorts, shirt and heels, used my red wrap from the tie rack so no coat needed, overall, very enjoyable 'booze cruise'
me and the wee brother - who is not wee at all, way to tall, posing for some pictures before we left the house. Some of the pictures maybe familiar to those of you who follow me on twitter as I twitpicked throughout the night, but I've put pretty much them all here. Scroll to the bottom for the rest of the weekend and food talk if you can't be bothered reading through the pictures.
family picture, pity my daddy was working :( Love this picture
I look deranged in this picture
and sister has the same pose for every picture :)
believe it or not, I'm not posing in this picture, I'm shouting at her for kissing me on the cheek and messing up my makeup with her silly lipgloss.
Me on the boat as it took sail.
floating past the odyssey.
David floating past the odyssey
David and my mammy
Kathy aka the birthday girl gets to drive the boat
Me and my awesome mammy that has hit her weightwatchers target weight! Woo! Gold Member.
doing the titanic scene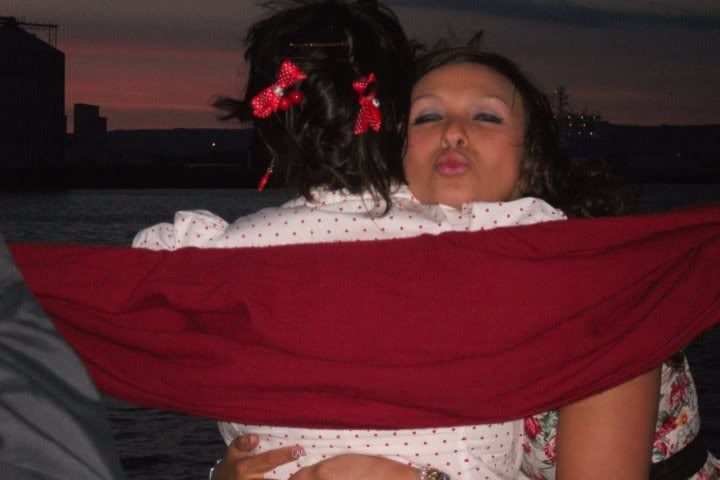 this image just doesn't convey the total beauty that was actually in front of me.
Shoes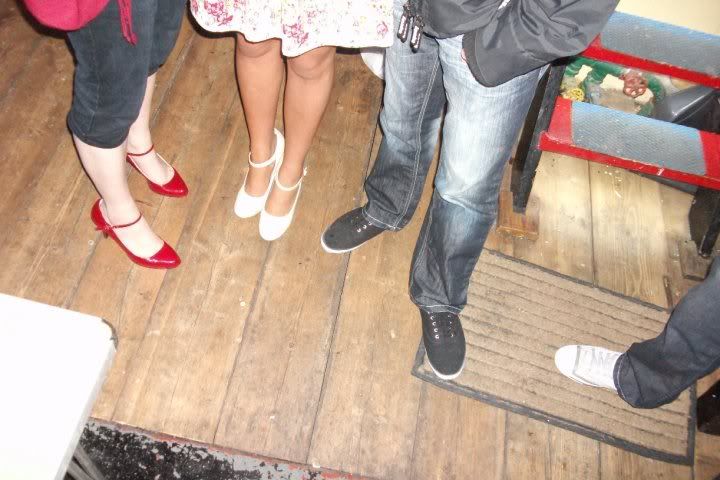 group photo - pity about the blur.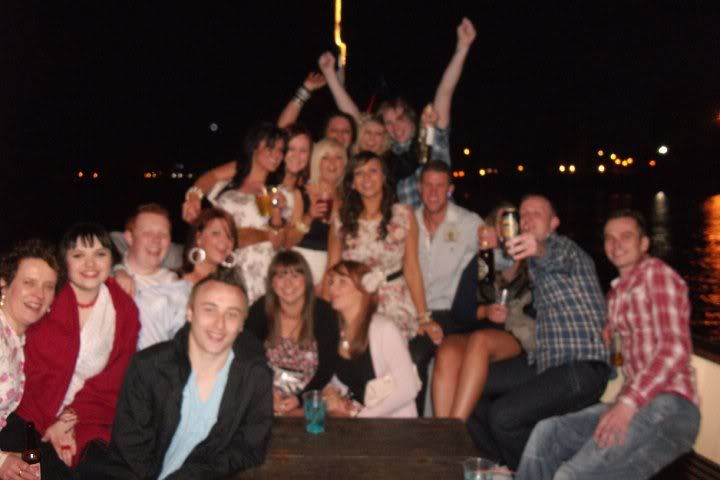 My festive earings, getting into the spirit of the evening.
Me and Alisha, she was awesome.
I've actually a few more pictures I'd like to have up of the night, but for some reason posterous isn't uploading them. Odd.
Moving onto Gav's birthday... We spent the day just chilling out, watching dvds and had decided to get a Dominos for dinner. That in mind I managed to stick to 6 .5 points before pizza.
I did one of the create your owns, medium, thin crust (despite my cimplete adoration of the regular dominos crust), low fat deligh cheese, grilled chicken and then the rest were double toppings of jalapeños, peppers, onions and tomatos.
It was freeking good, I decided to enjoy, I mean boyfriend's birthday is a special occasion, so I figured that was the best choice I could do. I'd freek out about points the next day.
Except the guilt then started. It was amazing the pizza no guilt over the actual pizza at all. It was more the guilt of not working it out. So went to the dominos website, love that they also provide the nutritional information, and worked out the entire pizza was 21.5 points! I had 16.5 points worth that night. And weirdly, once added to my earlier 6.5 points, means my entire days points was 23! So next to no guilt! Yay!
And then there was enough left over for breakfast the next day!
Granted, most of that pizza was Gav's, there's only one slice left that's mine by the time I took the picture, but still. Yummy 5 point brunch.
Also, before I post this want to do one of my Sarah recommends, I recently had a packet of these, bought a multipack in poundland, 5 wee bags for a pound.
they're not good, funky after taste. Really funky after taste.
I'm on 15.5 points for today, so tempted to have something bold tonight. Points to spare and all. Tomorrow is weigh-in day and I've been excellent with no sneeky weigh ins this week, apart from one this morning which shows I'm down one pound apparetly, which is brilliant considering lack of exercise and all.
Anyhoo, not much talk, mostly pictures, but another post will be up tomorrow after weigh-in time :)
Til then!
Sarah x